Access Storage - Dewdney
100 Dewdney Ave, Regina, SK
1ST 4 WEEKS FREE *
Photos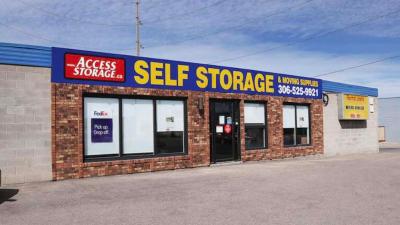 Hours
Office Hours

| | |
| --- | --- |
| Mon-Sat | 9:00am to 5:00pm |
| Sun | closed |
Access Hours

| | |
| --- | --- |
| Mon-Sun | 6:00am to 10:00pm |
About Access Storage - Dewdney
We are Regina's  #1 storage company and have the metal to back it up, winning numerous service awards such as the Consumers Choice Award for the best storage company. No matter what your Regina storage needs or how long you will be renting, Access Storage on Dewdney Ave is the perfect storage solution. 

Most of our facilities offer 1st 4 WEEKS FREE or FREE MOVE IN VAN. Call now for details!
Features
Climate Control
Free Moving Truck
Drive-up Access
Security
Parcel Delivery Acceptance
Drive-in Loading Bay
Packing Supplies
Dollies & Carts Available
Payment Options
Vehicle Storage
Moving Truck
Hours
Office Hours

| | |
| --- | --- |
| Mon-Sat | 9:00am to 5:00pm |
| Sun | closed |
Access Hours

| | |
| --- | --- |
| Mon-Sun | 6:00am to 10:00pm |
Facility Reviews
---
Great place for storing your extra stuff! Felt very secure to use and the extra space really came in handy. If your downsizing from a bigger place and have a lot of stuff kicking around that won't fit in your new place, I highly recommend getting a storage unit with Access Storage! It'll give you a piece of mind having your extra stuff out of your way while you figure out the new space, and it's still always accessible whenever you ever need it!
---
I wouldn't recommend this place, unless you're ok with racial profiling as their customer service team will team up on you if you are of Indigenous race. When I was in Management at Harlan Fairbanks, I always thought that was bad for business because a customer should be treated as just that a customer; source of incoming profit. Why Access Storage is managed this way is beyond me. We do not allow bullies at our schools so why do we enable this type behavior in the workplace? I've personally witnessed this multiple times to my clients which I volunteer to allow them to succeed in life.
---
Facility was super clean and staff were amazing. Renting the unit was made super easy.
---
Spacious units with excellent prices. The facilities are well-maintained, convenient and the staff are incredibly friendly and helpful! I was definitely pleased with the service.
---
It is a great experience. Sukhdeep is very nice, patient to show me the storage, explain the policy and meet my requirement and answered my quetion, thanks!